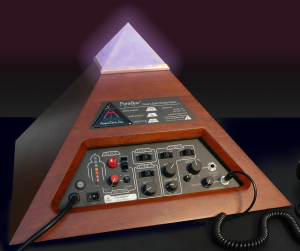 Pyradym ™ is the self-contained and fully automatic physioacoustic apparatus designed to stimulate and facilitate the human body's innate self-healing mechanisms. It consists of 4 basic functional systems:
Chakra-aligned Analogue Sound Generator
300 watt Physioacoustic transducer
Synchronised Light Therapy system
Pyradym's portable pyramidal-shaped enclosure is constructed from the finest select hardwoods. Hidden within the cabinet is a performance-grade sonic transducer capable of treating a room full of people at once. The recessed panel contains the user interface for Automatic and Manual modes along with controls for the pitch and tonal quality of the generated sounds. This panel also contains the entry point for the energetically-corrected AC supply cord, power switch, line protection fuse holder, and headphones jack. (Headphones not included)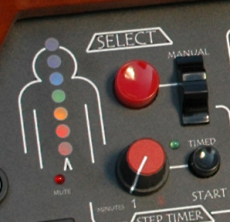 Pyradym generates Seven Chakra specific tones. In "MANUAL" mode, the Therapist or user controls the pitch and tonal quality of the sound frequencies to suit. The Physioacoustic and Light Therapy elements situated beneath the Crystal Capstone correspond to the sound frequencies by changing colour and intensity. The panel figure indicates the chakra-specific tones and colour generated beneath the Crystal Capstone. In "TIMED" mode, each chakra tone will be selected in sequence in a 1 to 13 minute interval, depending on the STEP TIMER's control setting, for continual hands-free operation.
In addition to Pyradym's color generator, Crystal Particle Fountain TM is also located beneath the Crystal Capstone and provides a mild radiated ultrasonic stimulus incorporating Reiki healing symbology while the device is in operation in all modes.
Watch our YouTube video:
Add Pyradym to your Wellness Practice;
Contact August Worley today: info@pyradym.com
USE PYRADYM TO TURN ANY MASSAGE TABLE INTO A HEALING SOUND TABLE!
11 Comments to "Pyradym"